Our kennelname and vision on breeding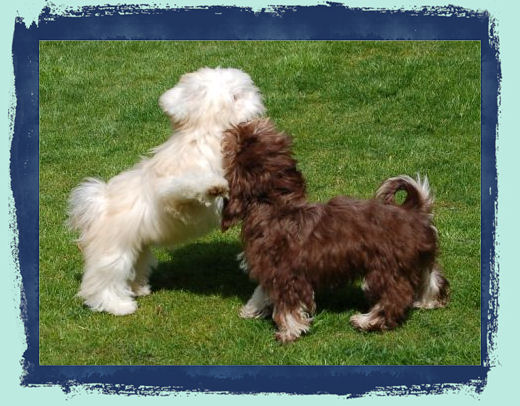 We have chosen the Italian kennelname del Paradiso di Cani which means litteraly ďof the Paradise of DogsĒ.
Our Havanese Havana has given birth to two litters. It was a fantastic experience!!
Our first litter was born on Friday October 23, 2009. Kenzie and Havana are the proud parents of one chocolate male. The second litter was born on December 4, 2010. Havana gave birth to one male and four females.
Info see Puppies
We are member of the Belgian Bichon Club and the Havanese Club of the Netherlands.
The pups are raised in a domestic environment and well socialized with other pets and children. They are vaccinated, microchipped and dewormed several times. The puppies have a pedigree of St-Hubertus (LOSH) and a European passport.
DNA testing of the two parents and at least one puppy of the litter contribute to the authenticity of the origin indicated on the LOSH pedigrees, written by the KMSH in the context of the FCI, to ensure scientifically. The DNA process is mandatory for all litters born in Belgium from 01/01/2009.
Tip: Check certainly the pages with information about the Havanese
About us
Linda


Kristine

Laura


Iím mother of two daughters, Kristine and Laura. September the 1st of 1999, my husband Philippe died because of cancer. Since my childhood, I love animals. Iím a vegetarian because of my love for animals.

My hobbyís are Doggy Dance, studying courses about animals and taking care of our little zoo at home.

Iím a 23 years old student. I'm also a vegetarian. At the University of Antwerp I've finished my studies of Languages and Litterature: French-Italian. I have my Bachelor and Master diploma. The next academic year I've finished the formation of professor (teacher). Since last academic year I study Agro- & Biotechnology. I dedicate my free time to activities with animals (walking, Dog Dance, Agility, Canicross, studying courses,Ö), to Irish dancing and to music. Another passion of mine is horse riding. Unfortunately, I don't have enough time at the moment

for this

hobby.

I canít imagine a life without animals.

Iím Laura and Iím 17 years old. I love animals and Iím a vegetarian, just like my mother and sister. We have a little Ďfarmí. Iím very interested in English and German. I also study at a school of music (acoustic and electrical guitar) and I like horse riding.
About our dogs (i cani felici)
Maltese Tosca

In 2001 we decided to take a dog at home. We've been thinking a lot about which breed we would look for. We decided to welcome a Maltese. We called her Tosca.

Havanese Dolce
At a dog exposition, we saw Havanese for the first time. We immediately fell in love with this breed. In 2004 we've bought our first Havanese, Dolce.

Havanese Vita

In 2005 our third dog Vita, also a Havanese came into our house. She is related to Dolce.

Havanese Gioia

Gioia is our third Havanese. Since 2007 she lives with us. We really adore this breed!

Havanese Dalia





In

2007/8

we've welcomed two other Havanese with a special characteristic; they both carry the chocolate/brown gene. They are chocolate Havanese. Dalia has a cream coat with chocolate tippings and she has the brown pigment (on the nose, lips, foot soles and eye lids).

Havanese Havana




Havana has the brown pigment and a brown coat. She also has tan points.

Havanese Hippy



In August 2008 we've adopted Hija-Hope (or Hope or Hippy), a very tiny Havanese puppy of four months. She also carries the brown pigment.

Havanese Mistica



In December 2008 we've welcomed another chocolate Havanese with tan points from Canada. Mistica was immediately adapted and showed her very sweet and gentle temperament. She is also curious and likes to learn.

Havanese Itala



Itala came to us in April 2009. Ze is a very very tiny and small Havanese. She has an acajou shine over her coat. That's because she's inherited the brown gene. So, she carries the brown gene.

Havanese Iliano

In October 2009 Havana gave birth to one chocolate male. We've called him Iliano del Paradiso di Cani. It was an amazing experience!! Iliano is the first male in our group. He is a very nice brown teddy bear.

English Cocker Spaniel Nikita

In November 2010 Nikita, an English Cocker Spaniel, came into our home. She was born on September 19, 2010.

Havanese Quenna

October 24, 2010 Quenna was born. In December we've welcomed her. She is a Chocolate Parti Havanese with a very soft temperament.

Havanese Tiziano

In December 2010 Havana gave birth to 5 puppies. Je Tiziano del Paradiso di Cani was first born and is the only male. He is a Chocolate Irish Pied male. He lives with his new owner, but he visits us very regularly.

Havanese Lucca

In December 2010 Havana gave birth to 5 puppies. Jolie Lucca del Paradiso di Cani was born second. She is a chocolate female, she looks a lot like Iliano. She is very sweet.

Havanese Emilia



In December 2010 Havana gave birth to 5 puppies. J'Emilia del Paradiso di Cani was born third. She is Sable Parti and has the brown pigment. She climbs over fences and always wants to be near us.

Havanese Jolie

In December 2010 Havana gave birth to 5 puppies. Jolie Siena del Paradiso di Cani was born fourth. She is Sable and has the brown pigment. She is very happy and cuddly.

Havanese Dafne

In December 2010 Havana gave birth to 5 puppies. Jolie Dafne del Paradiso di Cani was born fifth. She is Chocolate Irish Pied. She is very attached to us and she loves to cuddle.