In the Havana Post 31 (August) of the Havanese Club of the Netherlands an article was published about the chocolate colour of Havanese. We would like to give some comments.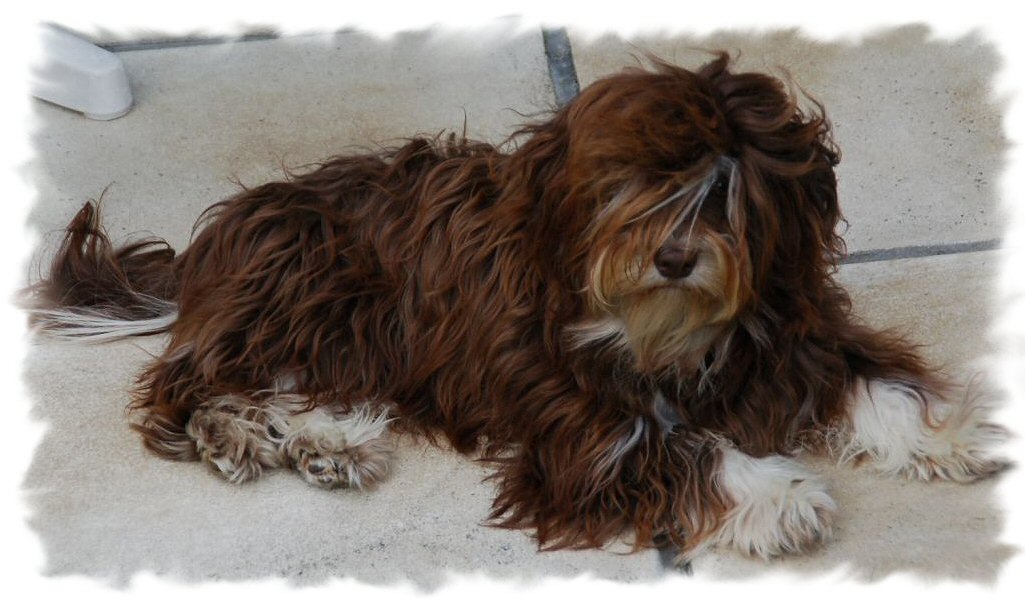 The colour "chocolate" or brown is not caused by the pigment pheomelanine (this causes the yellow-red-orange colours). The chocolate colour is caused by eumelanine (black pigment). This black pigment is present in the "colour cells" in granules. The shape of these granules determines the colour. If the granules are elongated the colour is black, if they are rather round the colour is brown-chocolate. The quantity of present pigment doesn't change and in this sense there is no dilution.
A connexion between the chocolate colour and immunity failure (immunity problems, skin irritations, allergies, …) is not demonstrated in the scientific literature.
We would like to thank Prof. Dr. L. Peelman of the University of Ghent for this interesting explanation!!
Attention:
A chocolate coloured Havanese is a dog with a chocolate- or liver coloured coat AND with a brown nose, brown eyelids, brown lips and brown soles! A chocolate coloured Havanese can not have any black pigment.
Meer info over de Chocoladekleurige Havanezer is te vinden onder Havanezer - Kleuren.